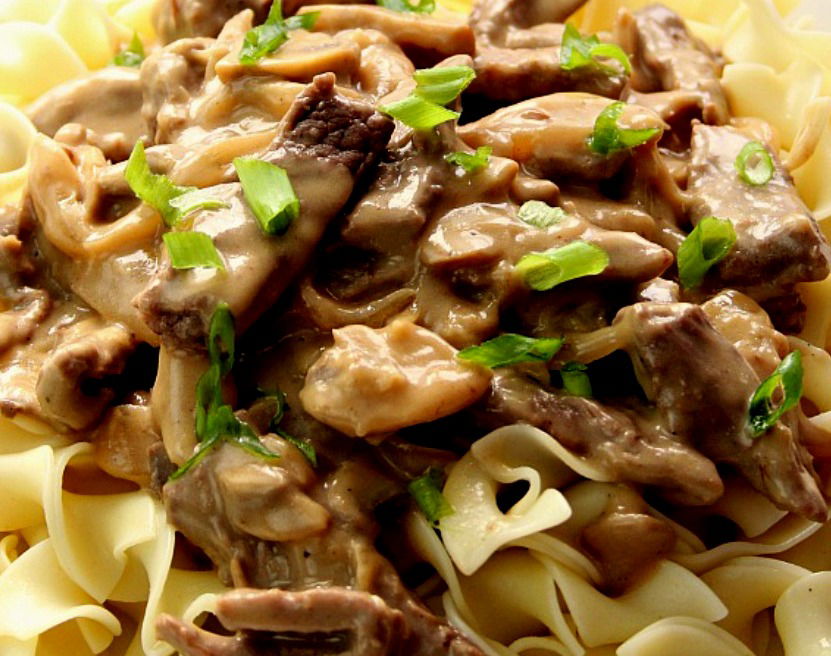 Prep Time 15 minutes
Cook Time 20 minutes
Total Time 35 minutes
Serves 4 people
Ingredients
4 tablespoons butter
1 1/2 pounds venison Backstrap, in one piece
2 large shallots, minced
3 garlic cloves, minced
1/4 pound sliced cremini or button mushrooms
1/4 pound sliced shiitake mushrooms
1/4 teaspoon ground nutmeg
2 tablespoons chopped fresh dill
1/4 cup wine or sherry
1 cup sour cream, at room temperature
Dill pollen to garnish (Optional)
Egg Noodles
Instructions
To make the stroganoff, salt the venison well and let it sit on the cutting board for 20 minutes or so. Get 2 tablespoons butter in a large saute' pan good and hot over medium-high heat. Pat the venison dry and sear all sides well in the butter. Cook it until it's rare to medium-rare. When the meat is ready, move it to a cutting board and let it rest.
Add the mushrooms to the pan and turn the heat to high. When most of the water has boiled away, add the remaining butter to the pan along with the shallots and saute' everything for 3 to 5 minutes, stirring often. Add the garlic, toss and cook over high heat for another 3 minutes or so. Salt to taste.
Add the wine and toss to combine. Let this boil down. While it is doing so, grate some nutmeg over the mixture. When the Madeira is mostly gone, turn the heat down to low. Slice the venison thinly and return it and any juices that have collected on the cutting board to the pan. Stir to combine and add most of the chopped fresh dill.
Mix in the sour cream and turn off the heat. Stir to combine and let it heat in the pan (do not boil or simmer). Serve over prepared egg noodles.